/home/ppwznl/domains/ppwz.nl/public_html/website/templates/ppwztemplatedefvers2018/component.php on line 5
">


Warning: is_file(): open_basedir restriction in effect. File(/) is not within the allowed path(s): (/home/ppwznl/:/tmp:/var/tmp:/opt/alt/php73/usr/share/pear/:/dev/urandom:/usr/local/lib/php/:/usr/local/php73/lib/php/) in /home/ppwznl/domains/ppwz.nl/public_html/website/libraries/src/Filesystem/File.php on line 649

Warning: is_dir(): open_basedir restriction in effect. File(/) is not within the allowed path(s): (/home/ppwznl/:/tmp:/var/tmp:/opt/alt/php73/usr/share/pear/:/dev/urandom:/usr/local/lib/php/:/usr/local/php73/lib/php/) in /home/ppwznl/domains/ppwz.nl/public_html/website/libraries/src/Filesystem/Folder.php on line 491

Warning: is_file(): open_basedir restriction in effect. File(/) is not within the allowed path(s): (/home/ppwznl/:/tmp:/var/tmp:/opt/alt/php73/usr/share/pear/:/dev/urandom:/usr/local/lib/php/:/usr/local/php73/lib/php/) in /home/ppwznl/domains/ppwz.nl/public_html/website/libraries/src/Filesystem/File.php on line 649

Warning: is_dir(): open_basedir restriction in effect. File(/) is not within the allowed path(s): (/home/ppwznl/:/tmp:/var/tmp:/opt/alt/php73/usr/share/pear/:/dev/urandom:/usr/local/lib/php/:/usr/local/php73/lib/php/) in /home/ppwznl/domains/ppwz.nl/public_html/website/libraries/src/Filesystem/Folder.php on line 491

Warning: is_file(): open_basedir restriction in effect. File(/) is not within the allowed path(s): (/home/ppwznl/:/tmp:/var/tmp:/opt/alt/php73/usr/share/pear/:/dev/urandom:/usr/local/lib/php/:/usr/local/php73/lib/php/) in /home/ppwznl/domains/ppwz.nl/public_html/website/libraries/src/Filesystem/File.php on line 649

Warning: is_dir(): open_basedir restriction in effect. File(/) is not within the allowed path(s): (/home/ppwznl/:/tmp:/var/tmp:/opt/alt/php73/usr/share/pear/:/dev/urandom:/usr/local/lib/php/:/usr/local/php73/lib/php/) in /home/ppwznl/domains/ppwz.nl/public_html/website/libraries/src/Filesystem/Folder.php on line 491

Warning: is_file(): open_basedir restriction in effect. File(/) is not within the allowed path(s): (/home/ppwznl/:/tmp:/var/tmp:/opt/alt/php73/usr/share/pear/:/dev/urandom:/usr/local/lib/php/:/usr/local/php73/lib/php/) in /home/ppwznl/domains/ppwz.nl/public_html/website/libraries/src/Filesystem/File.php on line 649

Warning: is_dir(): open_basedir restriction in effect. File(/) is not within the allowed path(s): (/home/ppwznl/:/tmp:/var/tmp:/opt/alt/php73/usr/share/pear/:/dev/urandom:/usr/local/lib/php/:/usr/local/php73/lib/php/) in /home/ppwznl/domains/ppwz.nl/public_html/website/libraries/src/Filesystem/Folder.php on line 491

Warning: is_file(): open_basedir restriction in effect. File(/) is not within the allowed path(s): (/home/ppwznl/:/tmp:/var/tmp:/opt/alt/php73/usr/share/pear/:/dev/urandom:/usr/local/lib/php/:/usr/local/php73/lib/php/) in /home/ppwznl/domains/ppwz.nl/public_html/website/libraries/src/Filesystem/File.php on line 649

Warning: is_dir(): open_basedir restriction in effect. File(/) is not within the allowed path(s): (/home/ppwznl/:/tmp:/var/tmp:/opt/alt/php73/usr/share/pear/:/dev/urandom:/usr/local/lib/php/:/usr/local/php73/lib/php/) in /home/ppwznl/domains/ppwz.nl/public_html/website/libraries/src/Filesystem/Folder.php on line 491

Warning: is_file(): open_basedir restriction in effect. File(/) is not within the allowed path(s): (/home/ppwznl/:/tmp:/var/tmp:/opt/alt/php73/usr/share/pear/:/dev/urandom:/usr/local/lib/php/:/usr/local/php73/lib/php/) in /home/ppwznl/domains/ppwz.nl/public_html/website/libraries/src/Filesystem/File.php on line 649

Warning: is_dir(): open_basedir restriction in effect. File(/) is not within the allowed path(s): (/home/ppwznl/:/tmp:/var/tmp:/opt/alt/php73/usr/share/pear/:/dev/urandom:/usr/local/lib/php/:/usr/local/php73/lib/php/) in /home/ppwznl/domains/ppwz.nl/public_html/website/libraries/src/Filesystem/Folder.php on line 491

Giftige planten encyclopedie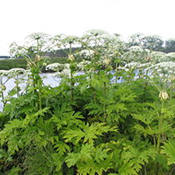 blad veroorzaakt brandblaren, sap giftig voor vogels
De reuzenberenklauw of Perzische berenklauw (Heracleum mantegazzianum) is een plant uit de schermbloemenfamilie (Apiaceae). Het is een in de Benelux als exoot voorkomende plant uit Zuidwest-Azië. In de 19e eeuw is de soort als tuinplant in Europa geïntroduceerd. De plant dankt zijn naam aan de klauwvormige bladeren.
De reuzenberenklauw is een overblijvende plant en kan, afhankelijk van de standplaats, in de lente in een paar maanden tijd, uitgroeien tot wel 4 m hoog. Afhankelijk van de standplaats zullen de zaailingen na een of meerdere jaren het bloeistadium bereiken. Het eerste jaar blijft de plant laag (ca 50 cm), het jaar erop is hij meestal volgroeid en bloeit van juni tot augustus met een variabel aantal schermen vol witte bloemetjes. Na gebloeid te hebben sterft de plant af. De plant houdt van verstoorde, voedselrijke grond.
Het gewas is vooral te vinden langs wegen en overige plaatsen die niet begraasd of bewerkt worden. De reuzenberenklauw wordt anno 2010 steeds vaker in verstedelijkt gebied aangetroffen en mede door de giftige uitwerking bij contact in toenemende mate als een probleem ervaren.
De reuzenberenklauw is niet giftig, althans in vergelijking met b.v. monnikskap (Aconitum) of de Taxus baccata, vooral schapen zijn er dol op. Wel bevat het sap van de plant furocoumarinen, die voor mensen sterk fototoxisch zijn. Blootstelling aan zonlicht na contact met het sap kan bij sommige mensen na 24 uur rode jeukende vlekken veroorzaken, die gevolgd worden door zwelling en blaarvorming (fytofotodermatitis). Het letsel kan er uitzien als een brandwond en het kan twee weken duren voordat het genezen is. Als litteken kan er een bruinverkleuring optreden. Wanneer het sap in de ogen komt, kan dit tot blindheid leiden. Als voorzorgsmaatregel moet dus elk contact met het plantensap vermeden worden; als dit toch gebeurd is, moet het sap zo snel mogelijk afgespoeld worden en moet blootstelling aan zonlicht van de huiddelen die in contact geweest zijn met het sap vermeden worden.