Warning
: is_file(): open_basedir restriction in effect. File(/) is not within the allowed path(s): (/home/ppwznl/:/tmp:/var/tmp:/opt/alt/php73/usr/share/pear/:/dev/urandom:/usr/local/lib/php/:/usr/local/php73/lib/php/) in
/home/ppwznl/domains/ppwz.nl/public_html/website/libraries/src/Filesystem/File.php
on line
649
Warning
: is_dir(): open_basedir restriction in effect. File(/) is not within the allowed path(s): (/home/ppwznl/:/tmp:/var/tmp:/opt/alt/php73/usr/share/pear/:/dev/urandom:/usr/local/lib/php/:/usr/local/php73/lib/php/) in
/home/ppwznl/domains/ppwz.nl/public_html/website/libraries/src/Filesystem/Folder.php
on line
491
Warning
: is_file(): open_basedir restriction in effect. File(/) is not within the allowed path(s): (/home/ppwznl/:/tmp:/var/tmp:/opt/alt/php73/usr/share/pear/:/dev/urandom:/usr/local/lib/php/:/usr/local/php73/lib/php/) in
/home/ppwznl/domains/ppwz.nl/public_html/website/libraries/src/Filesystem/File.php
on line
649
Warning
: is_dir(): open_basedir restriction in effect. File(/) is not within the allowed path(s): (/home/ppwznl/:/tmp:/var/tmp:/opt/alt/php73/usr/share/pear/:/dev/urandom:/usr/local/lib/php/:/usr/local/php73/lib/php/) in
/home/ppwznl/domains/ppwz.nl/public_html/website/libraries/src/Filesystem/Folder.php
on line
491
Warning
: is_file(): open_basedir restriction in effect. File(/) is not within the allowed path(s): (/home/ppwznl/:/tmp:/var/tmp:/opt/alt/php73/usr/share/pear/:/dev/urandom:/usr/local/lib/php/:/usr/local/php73/lib/php/) in
/home/ppwznl/domains/ppwz.nl/public_html/website/libraries/src/Filesystem/File.php
on line
649
Warning
: is_dir(): open_basedir restriction in effect. File(/) is not within the allowed path(s): (/home/ppwznl/:/tmp:/var/tmp:/opt/alt/php73/usr/share/pear/:/dev/urandom:/usr/local/lib/php/:/usr/local/php73/lib/php/) in
/home/ppwznl/domains/ppwz.nl/public_html/website/libraries/src/Filesystem/Folder.php
on line
491
Warning
: is_file(): open_basedir restriction in effect. File(/) is not within the allowed path(s): (/home/ppwznl/:/tmp:/var/tmp:/opt/alt/php73/usr/share/pear/:/dev/urandom:/usr/local/lib/php/:/usr/local/php73/lib/php/) in
/home/ppwznl/domains/ppwz.nl/public_html/website/libraries/src/Filesystem/File.php
on line
649
Warning
: is_dir(): open_basedir restriction in effect. File(/) is not within the allowed path(s): (/home/ppwznl/:/tmp:/var/tmp:/opt/alt/php73/usr/share/pear/:/dev/urandom:/usr/local/lib/php/:/usr/local/php73/lib/php/) in
/home/ppwznl/domains/ppwz.nl/public_html/website/libraries/src/Filesystem/Folder.php
on line
491
Warning
: is_file(): open_basedir restriction in effect. File(/) is not within the allowed path(s): (/home/ppwznl/:/tmp:/var/tmp:/opt/alt/php73/usr/share/pear/:/dev/urandom:/usr/local/lib/php/:/usr/local/php73/lib/php/) in
/home/ppwznl/domains/ppwz.nl/public_html/website/libraries/src/Filesystem/File.php
on line
649
Warning
: is_dir(): open_basedir restriction in effect. File(/) is not within the allowed path(s): (/home/ppwznl/:/tmp:/var/tmp:/opt/alt/php73/usr/share/pear/:/dev/urandom:/usr/local/lib/php/:/usr/local/php73/lib/php/) in
/home/ppwznl/domains/ppwz.nl/public_html/website/libraries/src/Filesystem/Folder.php
on line
491
Warning
: is_file(): open_basedir restriction in effect. File(/) is not within the allowed path(s): (/home/ppwznl/:/tmp:/var/tmp:/opt/alt/php73/usr/share/pear/:/dev/urandom:/usr/local/lib/php/:/usr/local/php73/lib/php/) in
/home/ppwznl/domains/ppwz.nl/public_html/website/libraries/src/Filesystem/File.php
on line
649
Warning
: is_dir(): open_basedir restriction in effect. File(/) is not within the allowed path(s): (/home/ppwznl/:/tmp:/var/tmp:/opt/alt/php73/usr/share/pear/:/dev/urandom:/usr/local/lib/php/:/usr/local/php73/lib/php/) in
/home/ppwznl/domains/ppwz.nl/public_html/website/libraries/src/Filesystem/Folder.php
on line
491
Giftige planten encyclopedie
E-mailadres
print
Giftige planten encyclopedie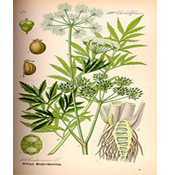 zeer giftig voor mens en dier (vogel)
gehele plant vooral de wortel
De waterscheerling (Cicuta virosa) is een plant uit de schermbloemenfamilie (Umbelliferae of Apiaceae). De plant komt van nature voor in de gematigde zone van het noordelijk halfrond en is zeer giftig, vooral de wortel.
De waterscheerling bloeit van juni tot augustus.
De naam Cicuta zou samenhangen met het Oudgriekse `kuó` dat `hol zijn` beduidt en zo verband houdt met de holle wortel. De ` Scheerling` ontleent zijn naam aan een Middelnederlands woord `screninc` dat `drek of mest` betekent en aldus samenhangt met de typische geur van de plant. De soortaanduiding virosa maakt nog duidelijk dat de plant `giftig` is.