Warning
: is_file(): open_basedir restriction in effect. File(/) is not within the allowed path(s): (/home/ppwznl/:/tmp:/var/tmp:/opt/alt/php73/usr/share/pear/:/dev/urandom:/usr/local/lib/php/:/usr/local/php73/lib/php/) in
/home/ppwznl/domains/ppwz.nl/public_html/website/libraries/src/Filesystem/File.php
on line
649
Warning
: is_dir(): open_basedir restriction in effect. File(/) is not within the allowed path(s): (/home/ppwznl/:/tmp:/var/tmp:/opt/alt/php73/usr/share/pear/:/dev/urandom:/usr/local/lib/php/:/usr/local/php73/lib/php/) in
/home/ppwznl/domains/ppwz.nl/public_html/website/libraries/src/Filesystem/Folder.php
on line
491
Warning
: is_file(): open_basedir restriction in effect. File(/) is not within the allowed path(s): (/home/ppwznl/:/tmp:/var/tmp:/opt/alt/php73/usr/share/pear/:/dev/urandom:/usr/local/lib/php/:/usr/local/php73/lib/php/) in
/home/ppwznl/domains/ppwz.nl/public_html/website/libraries/src/Filesystem/File.php
on line
649
Warning
: is_dir(): open_basedir restriction in effect. File(/) is not within the allowed path(s): (/home/ppwznl/:/tmp:/var/tmp:/opt/alt/php73/usr/share/pear/:/dev/urandom:/usr/local/lib/php/:/usr/local/php73/lib/php/) in
/home/ppwznl/domains/ppwz.nl/public_html/website/libraries/src/Filesystem/Folder.php
on line
491
Warning
: is_file(): open_basedir restriction in effect. File(/) is not within the allowed path(s): (/home/ppwznl/:/tmp:/var/tmp:/opt/alt/php73/usr/share/pear/:/dev/urandom:/usr/local/lib/php/:/usr/local/php73/lib/php/) in
/home/ppwznl/domains/ppwz.nl/public_html/website/libraries/src/Filesystem/File.php
on line
649
Warning
: is_dir(): open_basedir restriction in effect. File(/) is not within the allowed path(s): (/home/ppwznl/:/tmp:/var/tmp:/opt/alt/php73/usr/share/pear/:/dev/urandom:/usr/local/lib/php/:/usr/local/php73/lib/php/) in
/home/ppwznl/domains/ppwz.nl/public_html/website/libraries/src/Filesystem/Folder.php
on line
491
Warning
: is_file(): open_basedir restriction in effect. File(/) is not within the allowed path(s): (/home/ppwznl/:/tmp:/var/tmp:/opt/alt/php73/usr/share/pear/:/dev/urandom:/usr/local/lib/php/:/usr/local/php73/lib/php/) in
/home/ppwznl/domains/ppwz.nl/public_html/website/libraries/src/Filesystem/File.php
on line
649
Warning
: is_dir(): open_basedir restriction in effect. File(/) is not within the allowed path(s): (/home/ppwznl/:/tmp:/var/tmp:/opt/alt/php73/usr/share/pear/:/dev/urandom:/usr/local/lib/php/:/usr/local/php73/lib/php/) in
/home/ppwznl/domains/ppwz.nl/public_html/website/libraries/src/Filesystem/Folder.php
on line
491
Warning
: is_file(): open_basedir restriction in effect. File(/) is not within the allowed path(s): (/home/ppwznl/:/tmp:/var/tmp:/opt/alt/php73/usr/share/pear/:/dev/urandom:/usr/local/lib/php/:/usr/local/php73/lib/php/) in
/home/ppwznl/domains/ppwz.nl/public_html/website/libraries/src/Filesystem/File.php
on line
649
Warning
: is_dir(): open_basedir restriction in effect. File(/) is not within the allowed path(s): (/home/ppwznl/:/tmp:/var/tmp:/opt/alt/php73/usr/share/pear/:/dev/urandom:/usr/local/lib/php/:/usr/local/php73/lib/php/) in
/home/ppwznl/domains/ppwz.nl/public_html/website/libraries/src/Filesystem/Folder.php
on line
491
Warning
: is_file(): open_basedir restriction in effect. File(/) is not within the allowed path(s): (/home/ppwznl/:/tmp:/var/tmp:/opt/alt/php73/usr/share/pear/:/dev/urandom:/usr/local/lib/php/:/usr/local/php73/lib/php/) in
/home/ppwznl/domains/ppwz.nl/public_html/website/libraries/src/Filesystem/File.php
on line
649
Warning
: is_dir(): open_basedir restriction in effect. File(/) is not within the allowed path(s): (/home/ppwznl/:/tmp:/var/tmp:/opt/alt/php73/usr/share/pear/:/dev/urandom:/usr/local/lib/php/:/usr/local/php73/lib/php/) in
/home/ppwznl/domains/ppwz.nl/public_html/website/libraries/src/Filesystem/Folder.php
on line
491
Giftige planten encyclopedie
E-mailadres
print
Giftige planten encyclopedie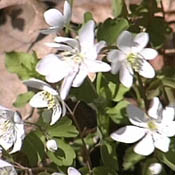 giftig voor de mens en dier
gehele plant, vooral het sap zeer sterk giftig voor de mens
Sanguinaria canadensis is een vroegbloeiende vaste plant die met ondergrondse wortelstokken, ook rhizomen genoemd, overwintert. Deze wortelstokken groeien vrij ondiep en komen zelfs af en toe een stukje bovengronds.
Eind maart of begin april komen dikke bloemknoppen boven de grond uit en vlak daar achteraan een nog opgerold blad.
Tijdens en na de bloei ontvouwt het blad zich en groeit uit tot zo'n 25-30cm hoogte. Gedurende het voorjaar en de zomer zorgt dit prachtig gevormde, zilver-groene blad voor voldoende voedingstoffen om de wortelstok verder te laten groeien en vol energie de winter in te gaan, zodat het volgende vroege voorjaar weer een prachtige bloem, of zelfs twee bloemen, kunnen ontspruiten.
De groei is traag, de wortelstokken breiden zich per jaar hooguit 5 tot 7 centimeter uit. Omdat de bladeren op zich vrij groot kunnen worden (20-25cm doorsnede) zijn er zo'n 9 planten per vierkante meter nodig om na 3-4 jaar die vierkante meter redelijk mooi gevuld te hebben. En daarna wordt het alleen nog maar mooier!
Omdat alle stampers en stuifmeeldraden van de dubbelbloemige bloedwortel zijn omgevormd tot bloemblaadjes, is de plant steriel. Ze vormt geen zaad en kan dus uitsluitend d.m.v. het delen van de wortelstokken worden vermeerderd. Dit is een langdurig proces en kan maar eens in de 3-4 jaar worden uitgevoerd. Daarom is dit geen goedkope plant.