Warning
: is_file(): open_basedir restriction in effect. File(/) is not within the allowed path(s): (/home/ppwznl/:/tmp:/var/tmp:/opt/alt/php73/usr/share/pear/:/dev/urandom:/usr/local/lib/php/:/usr/local/php73/lib/php/) in
/home/ppwznl/domains/ppwz.nl/public_html/website/libraries/src/Filesystem/File.php
on line
649
Warning
: is_dir(): open_basedir restriction in effect. File(/) is not within the allowed path(s): (/home/ppwznl/:/tmp:/var/tmp:/opt/alt/php73/usr/share/pear/:/dev/urandom:/usr/local/lib/php/:/usr/local/php73/lib/php/) in
/home/ppwznl/domains/ppwz.nl/public_html/website/libraries/src/Filesystem/Folder.php
on line
491
Warning
: is_file(): open_basedir restriction in effect. File(/) is not within the allowed path(s): (/home/ppwznl/:/tmp:/var/tmp:/opt/alt/php73/usr/share/pear/:/dev/urandom:/usr/local/lib/php/:/usr/local/php73/lib/php/) in
/home/ppwznl/domains/ppwz.nl/public_html/website/libraries/src/Filesystem/File.php
on line
649
Warning
: is_dir(): open_basedir restriction in effect. File(/) is not within the allowed path(s): (/home/ppwznl/:/tmp:/var/tmp:/opt/alt/php73/usr/share/pear/:/dev/urandom:/usr/local/lib/php/:/usr/local/php73/lib/php/) in
/home/ppwznl/domains/ppwz.nl/public_html/website/libraries/src/Filesystem/Folder.php
on line
491
Warning
: is_file(): open_basedir restriction in effect. File(/) is not within the allowed path(s): (/home/ppwznl/:/tmp:/var/tmp:/opt/alt/php73/usr/share/pear/:/dev/urandom:/usr/local/lib/php/:/usr/local/php73/lib/php/) in
/home/ppwznl/domains/ppwz.nl/public_html/website/libraries/src/Filesystem/File.php
on line
649
Warning
: is_dir(): open_basedir restriction in effect. File(/) is not within the allowed path(s): (/home/ppwznl/:/tmp:/var/tmp:/opt/alt/php73/usr/share/pear/:/dev/urandom:/usr/local/lib/php/:/usr/local/php73/lib/php/) in
/home/ppwznl/domains/ppwz.nl/public_html/website/libraries/src/Filesystem/Folder.php
on line
491
Warning
: is_file(): open_basedir restriction in effect. File(/) is not within the allowed path(s): (/home/ppwznl/:/tmp:/var/tmp:/opt/alt/php73/usr/share/pear/:/dev/urandom:/usr/local/lib/php/:/usr/local/php73/lib/php/) in
/home/ppwznl/domains/ppwz.nl/public_html/website/libraries/src/Filesystem/File.php
on line
649
Warning
: is_dir(): open_basedir restriction in effect. File(/) is not within the allowed path(s): (/home/ppwznl/:/tmp:/var/tmp:/opt/alt/php73/usr/share/pear/:/dev/urandom:/usr/local/lib/php/:/usr/local/php73/lib/php/) in
/home/ppwznl/domains/ppwz.nl/public_html/website/libraries/src/Filesystem/Folder.php
on line
491
Warning
: is_file(): open_basedir restriction in effect. File(/) is not within the allowed path(s): (/home/ppwznl/:/tmp:/var/tmp:/opt/alt/php73/usr/share/pear/:/dev/urandom:/usr/local/lib/php/:/usr/local/php73/lib/php/) in
/home/ppwznl/domains/ppwz.nl/public_html/website/libraries/src/Filesystem/File.php
on line
649
Warning
: is_dir(): open_basedir restriction in effect. File(/) is not within the allowed path(s): (/home/ppwznl/:/tmp:/var/tmp:/opt/alt/php73/usr/share/pear/:/dev/urandom:/usr/local/lib/php/:/usr/local/php73/lib/php/) in
/home/ppwznl/domains/ppwz.nl/public_html/website/libraries/src/Filesystem/Folder.php
on line
491
Warning
: is_file(): open_basedir restriction in effect. File(/) is not within the allowed path(s): (/home/ppwznl/:/tmp:/var/tmp:/opt/alt/php73/usr/share/pear/:/dev/urandom:/usr/local/lib/php/:/usr/local/php73/lib/php/) in
/home/ppwznl/domains/ppwz.nl/public_html/website/libraries/src/Filesystem/File.php
on line
649
Warning
: is_dir(): open_basedir restriction in effect. File(/) is not within the allowed path(s): (/home/ppwznl/:/tmp:/var/tmp:/opt/alt/php73/usr/share/pear/:/dev/urandom:/usr/local/lib/php/:/usr/local/php73/lib/php/) in
/home/ppwznl/domains/ppwz.nl/public_html/website/libraries/src/Filesystem/Folder.php
on line
491
Giftige planten encyclopedie
E-mailadres
print
Giftige planten encyclopedie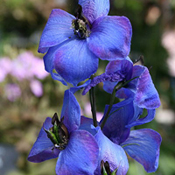 Ridderspoor (Delphinium) is een geslacht uit de ranonkelfamilie (Ranunculaceae). De botanische naam is afkomstig van het Latijnse woord voor dolfijn, omdat de knoppen van de bloem in de verte iets weg hebben van een dolfijn.
Er zijn zo'n 250 soorten, die voorkomen in de gematigde streken van het noordelijk halfrond. De planten houden van een goed doorlatende grond en staan in de zomer graag in de volle zon, en ze zijn bestand tegen koude winters.
Ridderspoor is erg gevoelig voor schimmelinfecties als meeldauw. Men doet er dus goed aan om de plant tijdig te behandelen met een anti-schimmelmiddel, zoals spuitzwavel.
De planten uit het geslacht hebben diep ingesneden bladeren met drie tot zeven bladdelen.
De bloei van deze planten vindt plaats tussen het einde van de lente tot aan het einde van de zomer. De bloemtoortsen van de riddersporen variëren in lengte van 10 tot 200 cm en staan recht omhoog. Een regenbui of harde wind kan de toorsten doen buigen, wat voorkomen kan worden door de planten op te binden.
De bloem heeft vijf blaadjes en is zeer geliefd bij bijen en vlinders. De kleuren van de bloemen kunnen paars, blauw, rood, geel of wit zijn.
Ridderspoor is bijzonder giftig.