Warning
: is_file(): open_basedir restriction in effect. File(/) is not within the allowed path(s): (/home/ppwznl/:/tmp:/var/tmp:/opt/alt/php73/usr/share/pear/:/dev/urandom:/usr/local/lib/php/:/usr/local/php73/lib/php/) in
/home/ppwznl/domains/ppwz.nl/public_html/website/libraries/src/Filesystem/File.php
on line
649
Warning
: is_dir(): open_basedir restriction in effect. File(/) is not within the allowed path(s): (/home/ppwznl/:/tmp:/var/tmp:/opt/alt/php73/usr/share/pear/:/dev/urandom:/usr/local/lib/php/:/usr/local/php73/lib/php/) in
/home/ppwznl/domains/ppwz.nl/public_html/website/libraries/src/Filesystem/Folder.php
on line
491
Warning
: is_file(): open_basedir restriction in effect. File(/) is not within the allowed path(s): (/home/ppwznl/:/tmp:/var/tmp:/opt/alt/php73/usr/share/pear/:/dev/urandom:/usr/local/lib/php/:/usr/local/php73/lib/php/) in
/home/ppwznl/domains/ppwz.nl/public_html/website/libraries/src/Filesystem/File.php
on line
649
Warning
: is_dir(): open_basedir restriction in effect. File(/) is not within the allowed path(s): (/home/ppwznl/:/tmp:/var/tmp:/opt/alt/php73/usr/share/pear/:/dev/urandom:/usr/local/lib/php/:/usr/local/php73/lib/php/) in
/home/ppwznl/domains/ppwz.nl/public_html/website/libraries/src/Filesystem/Folder.php
on line
491
Warning
: is_file(): open_basedir restriction in effect. File(/) is not within the allowed path(s): (/home/ppwznl/:/tmp:/var/tmp:/opt/alt/php73/usr/share/pear/:/dev/urandom:/usr/local/lib/php/:/usr/local/php73/lib/php/) in
/home/ppwznl/domains/ppwz.nl/public_html/website/libraries/src/Filesystem/File.php
on line
649
Warning
: is_dir(): open_basedir restriction in effect. File(/) is not within the allowed path(s): (/home/ppwznl/:/tmp:/var/tmp:/opt/alt/php73/usr/share/pear/:/dev/urandom:/usr/local/lib/php/:/usr/local/php73/lib/php/) in
/home/ppwznl/domains/ppwz.nl/public_html/website/libraries/src/Filesystem/Folder.php
on line
491
Warning
: is_file(): open_basedir restriction in effect. File(/) is not within the allowed path(s): (/home/ppwznl/:/tmp:/var/tmp:/opt/alt/php73/usr/share/pear/:/dev/urandom:/usr/local/lib/php/:/usr/local/php73/lib/php/) in
/home/ppwznl/domains/ppwz.nl/public_html/website/libraries/src/Filesystem/File.php
on line
649
Warning
: is_dir(): open_basedir restriction in effect. File(/) is not within the allowed path(s): (/home/ppwznl/:/tmp:/var/tmp:/opt/alt/php73/usr/share/pear/:/dev/urandom:/usr/local/lib/php/:/usr/local/php73/lib/php/) in
/home/ppwznl/domains/ppwz.nl/public_html/website/libraries/src/Filesystem/Folder.php
on line
491
Warning
: is_file(): open_basedir restriction in effect. File(/) is not within the allowed path(s): (/home/ppwznl/:/tmp:/var/tmp:/opt/alt/php73/usr/share/pear/:/dev/urandom:/usr/local/lib/php/:/usr/local/php73/lib/php/) in
/home/ppwznl/domains/ppwz.nl/public_html/website/libraries/src/Filesystem/File.php
on line
649
Warning
: is_dir(): open_basedir restriction in effect. File(/) is not within the allowed path(s): (/home/ppwznl/:/tmp:/var/tmp:/opt/alt/php73/usr/share/pear/:/dev/urandom:/usr/local/lib/php/:/usr/local/php73/lib/php/) in
/home/ppwznl/domains/ppwz.nl/public_html/website/libraries/src/Filesystem/Folder.php
on line
491
Warning
: is_file(): open_basedir restriction in effect. File(/) is not within the allowed path(s): (/home/ppwznl/:/tmp:/var/tmp:/opt/alt/php73/usr/share/pear/:/dev/urandom:/usr/local/lib/php/:/usr/local/php73/lib/php/) in
/home/ppwznl/domains/ppwz.nl/public_html/website/libraries/src/Filesystem/File.php
on line
649
Warning
: is_dir(): open_basedir restriction in effect. File(/) is not within the allowed path(s): (/home/ppwznl/:/tmp:/var/tmp:/opt/alt/php73/usr/share/pear/:/dev/urandom:/usr/local/lib/php/:/usr/local/php73/lib/php/) in
/home/ppwznl/domains/ppwz.nl/public_html/website/libraries/src/Filesystem/Folder.php
on line
491
Giftige planten encyclopedie
E-mailadres
print
Giftige planten encyclopedie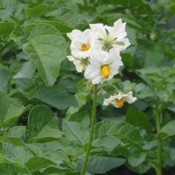 giftig voor de mens en dier
stengels, bessen en knollen(ongekookt)
De aardappel (Solanum tuberosum) is een plant die ondergronds een energievoorraad in de vorm van zetmeel aanlegt. Het zetmeel wordt bewaard in de vorm van knollen, die eveneens aardappelen of aardappels worden genoemd. De knollen worden gevormd aan ondergrondse stengels, stolonen genoemd. In veel Europese en westerse landen is de aardappel een basisvoedingsmiddel.
De aardappel behoort tot de nachtschadefamilie, net als de tomaat, de paprika en de tabak. De groene delen van de aardappel zijn dus giftig. Net als andere leden van de nachtschadefamilie bevat de plant alkaloïden. Aardappelplanten kunnen naast knollen ook bessen vormen, welke in tegenstelling tot die van de tomaat zeer giftig zijn. Tussen de verschillende aardappelrassen zijn er grote verschillen in de vorming van bessen.
Daarnaast kunnen de knollen ook giftig zijn door een hoog gehalte aan solanine. De aardappel zelf is, ongekookt, voor sommige dieren dus ook giftig.
Daardoor zijn zetmeelaardappels van bepaalde rassen niet geschikt voor menselijke consumptie. Ook als aardappelen tijdens het bewaren worden blootgesteld aan licht stijgt het gehalte aan solanine. De knollen worden groen en zijn daarna ongeschikt om te eten.
In de aardappel komen twee typen zetmeel voor, amylose en amylopectine, waarvan 21% amylose. In 2005 is voor het eerst een ras in de handel gekomen dat bijna 100% amylopectine bevat.

De aardappel is vanuit Zuid-Amerika naar Europa gebracht door Spaanse ontdekkingsreizigers. Waarschijnlijk nam Diego de Amalya de eerste plant in 1536 mee uit Peru of Chili, waar deze aardappel bekend stond als chunu. De Inca's verbouwden de plant toen al honderden jaren. De aardappelplant groeide ook op grote hoogten in de Andes, waar veel andere planten niet meer kunnen groeien. Op basis van DNA-onderzoek is aangetoond dat alle aardappels afstammen van één plant uit zuid-Peru.
De boeren wilden aanvankelijk niets van de plant weten. Omdat de stengels en bessen giftig zijn, dachten ze dat de knollen ook ongezond zouden zijn. Pas in 1727 werd de aardappel, voor het eerst in Friesland, als voedsel erkend. Langzamerhand kreeg de aardappel toch steeds meer de rol van volksvoedsel en in de 18e eeuw werd de aardappel in alle Europese landen verbouwd. Vanwege het hoge gehalte aan vitamine C werd de knol, met name tijdens lange zeereizen, ook gebruikt ter voorkoming van scheurbuik.