Warning
: is_file(): open_basedir restriction in effect. File(/) is not within the allowed path(s): (/home/ppwznl/:/tmp:/var/tmp:/opt/alt/php73/usr/share/pear/:/dev/urandom:/usr/local/lib/php/:/usr/local/php73/lib/php/) in
/home/ppwznl/domains/ppwz.nl/public_html/website/libraries/src/Filesystem/File.php
on line
649
Warning
: is_dir(): open_basedir restriction in effect. File(/) is not within the allowed path(s): (/home/ppwznl/:/tmp:/var/tmp:/opt/alt/php73/usr/share/pear/:/dev/urandom:/usr/local/lib/php/:/usr/local/php73/lib/php/) in
/home/ppwznl/domains/ppwz.nl/public_html/website/libraries/src/Filesystem/Folder.php
on line
491
Warning
: is_file(): open_basedir restriction in effect. File(/) is not within the allowed path(s): (/home/ppwznl/:/tmp:/var/tmp:/opt/alt/php73/usr/share/pear/:/dev/urandom:/usr/local/lib/php/:/usr/local/php73/lib/php/) in
/home/ppwznl/domains/ppwz.nl/public_html/website/libraries/src/Filesystem/File.php
on line
649
Warning
: is_dir(): open_basedir restriction in effect. File(/) is not within the allowed path(s): (/home/ppwznl/:/tmp:/var/tmp:/opt/alt/php73/usr/share/pear/:/dev/urandom:/usr/local/lib/php/:/usr/local/php73/lib/php/) in
/home/ppwznl/domains/ppwz.nl/public_html/website/libraries/src/Filesystem/Folder.php
on line
491
Warning
: is_file(): open_basedir restriction in effect. File(/) is not within the allowed path(s): (/home/ppwznl/:/tmp:/var/tmp:/opt/alt/php73/usr/share/pear/:/dev/urandom:/usr/local/lib/php/:/usr/local/php73/lib/php/) in
/home/ppwznl/domains/ppwz.nl/public_html/website/libraries/src/Filesystem/File.php
on line
649
Warning
: is_dir(): open_basedir restriction in effect. File(/) is not within the allowed path(s): (/home/ppwznl/:/tmp:/var/tmp:/opt/alt/php73/usr/share/pear/:/dev/urandom:/usr/local/lib/php/:/usr/local/php73/lib/php/) in
/home/ppwznl/domains/ppwz.nl/public_html/website/libraries/src/Filesystem/Folder.php
on line
491
Warning
: is_file(): open_basedir restriction in effect. File(/) is not within the allowed path(s): (/home/ppwznl/:/tmp:/var/tmp:/opt/alt/php73/usr/share/pear/:/dev/urandom:/usr/local/lib/php/:/usr/local/php73/lib/php/) in
/home/ppwznl/domains/ppwz.nl/public_html/website/libraries/src/Filesystem/File.php
on line
649
Warning
: is_dir(): open_basedir restriction in effect. File(/) is not within the allowed path(s): (/home/ppwznl/:/tmp:/var/tmp:/opt/alt/php73/usr/share/pear/:/dev/urandom:/usr/local/lib/php/:/usr/local/php73/lib/php/) in
/home/ppwznl/domains/ppwz.nl/public_html/website/libraries/src/Filesystem/Folder.php
on line
491
Warning
: is_file(): open_basedir restriction in effect. File(/) is not within the allowed path(s): (/home/ppwznl/:/tmp:/var/tmp:/opt/alt/php73/usr/share/pear/:/dev/urandom:/usr/local/lib/php/:/usr/local/php73/lib/php/) in
/home/ppwznl/domains/ppwz.nl/public_html/website/libraries/src/Filesystem/File.php
on line
649
Warning
: is_dir(): open_basedir restriction in effect. File(/) is not within the allowed path(s): (/home/ppwznl/:/tmp:/var/tmp:/opt/alt/php73/usr/share/pear/:/dev/urandom:/usr/local/lib/php/:/usr/local/php73/lib/php/) in
/home/ppwznl/domains/ppwz.nl/public_html/website/libraries/src/Filesystem/Folder.php
on line
491
Warning
: is_file(): open_basedir restriction in effect. File(/) is not within the allowed path(s): (/home/ppwznl/:/tmp:/var/tmp:/opt/alt/php73/usr/share/pear/:/dev/urandom:/usr/local/lib/php/:/usr/local/php73/lib/php/) in
/home/ppwznl/domains/ppwz.nl/public_html/website/libraries/src/Filesystem/File.php
on line
649
Warning
: is_dir(): open_basedir restriction in effect. File(/) is not within the allowed path(s): (/home/ppwznl/:/tmp:/var/tmp:/opt/alt/php73/usr/share/pear/:/dev/urandom:/usr/local/lib/php/:/usr/local/php73/lib/php/) in
/home/ppwznl/domains/ppwz.nl/public_html/website/libraries/src/Filesystem/Folder.php
on line
491
Giftige planten encyclopedie
E-mailadres
print
Giftige planten encyclopedie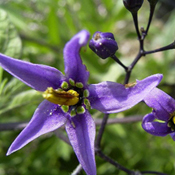 giftig voor de mens en dier
bessen, bladeren en stengels
Bitterzoet (Solanum dulcamara) is een vrij algemeen voorkomende, vaste plant uit de nachtschadefamilie (Solanaceae). Volksnamen zijn dolbessen-hout, elf-rank, hoe-langer-hoe-liever, klimmende nachtschade en qualster. De Nederlandse naam is een vertaling van de botanische naam. Dulcis betekent "zoet" en amaris betekent "bitter".
De stengels zijn dun, rankend en aan de basis verhout. De plant windt zich meestal om andere planten. Hierbij kan de plant een lengte van 4 m bereiken, hoewel 1-2 m gebruikelijker is. De bloeiwijze is een enkelvoudig gevorkt bijscherm. De 1-1,5 cm grote paarsblauwe bloemen bestaan uit vijf aan de voet vergroeide kroonbladen. De plant bloeit van juni tot september in trosjes of groepjes van drie tot twintig stuks. De bloemen zijn hangend, stervormig, met vijf paarsblauwe kroonbladen en gele vergroeide meeldraden. De 1 cm grote bessen zijn eerst groen, dan geel, later rood. Ze zijn in rijpe vorm zacht, eetbaar voor vogels, maar giftig voor mensen. De vogels spelen dan ook een belangrijke rol bij de verspreiding van zaden].
De 4-12 cm lange bladen zijn pijlvormig of langwerpig, vaak iets gelobd aan de basis, met een bladsteel tot 3 cm. Zoals bij vrijwel alle Solanum-soorten zijn de bladen giftig.
Bitterzoet bevat meerdere glycosiden. Indien met op de stengel kauwt proeft men eerst de bittere smaak van de glycosiden, maar doordat deze door het speeksel worden ontleed en er sacharose vrijkomt, komt de zoete smaak naar voren. Vandaar de naam. De stengels bevatten ook alkaloïden.
Werkzame stoffen zijn bitterglycosiden, saponine, solaceïne, solaneïne, solsonine en tannine. Giftige stoffen zijn solanine en dulcamarine.
In de volksgeneeskunde werden drie handen gedroogde bladen, samen met 100 g lijnzaadmeel gekookt in een liter (rode) wijn. Men liet het met een ons reuzel inkoken tot een papje. Dit papje werd toegepast bij steenpuisten. Een overdosis leidt onder andere tot verlies van spraak.
Bitterzoet behoort tot de heksenkruiden.